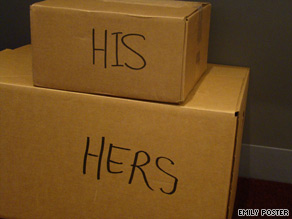 This topic has come up on a couple of blogs recently and a friend and I were discussing it yesterday as well, so I thought I'd blog about it.
There are folks who believe you should not get married to someone you have not lived with...I'm not one of those people.
In the discussion yesterday my friend asked, "Well if you're spending so much time at one place but paying two rents, why not move in together?" That, to me, is not a reason to move in with someone I'm dating.
She also argued, if you're living in a high cost of living area like New York City, it can make sense to live with your boyfriend/girlfriend. Again, IMO, limited finances are not a reason to move in with someone I'm dating.
Here's what I responded: "I don't mix my money, credit and future with potentially temporary folks. I'm not buying furniture with you, we aren't signing leases together, adopting a pet -- none of that. If you want to do all of that, marry me." (Ed note: I'm speaking about ME and MY preferences. Other folks can do what they like, obviously).
She argued that it would be a roommate-type situation unless and until you decided to get married or break up. *blink*
I don't feel I should mix my finances with matters of the heart until some legal paperwork is involved. I AM SERIOUS about my money. When I was younger, I had a couple of crazy relationships where I stupidly allowed a lot of foulness to go on and so these brothers thought, hell, she's letting me do this, let me ask her to co-sign on this motorcyle or give me some money on this rent. Funny how cheating didn't make me leave, but a money/co-sign request ran me off faster than Marion Jones on steroids. I DO NOT MIX MATTERS OF MONEY AND THE HEART. EVER.
Among my friends and family I am known as being very practical and serious about money. Cold. I have THREE friends I would loan money to with no question and that's because I know how they handle their money and I know if they asked me for some loot they really needed it. This is a sidebar however, back to this moving in thing.
Living with someone I am involved with, could never be just a roommate situation. How does it work? If one person wants to break up and the other doesn't and y'all live in the same house, how does that work? Who gets what? We bought the couch together so is it yours or mine? What about breaking the lease? And the deposit? All that sounds like DIVORCE-type stuff to me. Except, wait, we aren't married.
I realize this may make sense to no one but me and that's fine since I did what worked for me and I know others do, too.